I was sent this article by my dear friend Callie, at which point I promptly lost my marbles. I only very rarely get angry, and it's usually about things that are beyond human comprehension, like Steubenville and Dehli. I was almost incoherent three paragraphs in, and it only got worse.  I fully admit that I referred to the author as an arrogant tampon and then went home and decided to write about it, as well. Lucky for everyone I slept on it…but this might be a bumpy ride.
Let's talk about damning other women's reproductive decisions.
You know you want kids, but you're still not sure you're ready. Mother of three, Janine Kovac, asks: What are you waiting for?
Janine might ask that, but don't answer her. You'll soon see why.
This is an open letter to an old friend of mine. I'll call her "Doris." If you're a mom, you know Doris. She's in her mid-30s and thinks of herself as a career woman. She knows the clock is ticking. She says she's not panicking yet, but we know better—she's freaking out. She doesn't want to be rushed into having kids (which is why she's still doesn't have any) and she's worried that she doesn't feel ready. Or worse—what if she finally feels ready at age 46 and it's too late? What if it's already too late?
Hi, everyone. I'm Doris. (Hi, Doris!). Well, I'm A Doris. I'm not necessarily the Doris that good ol' Janine is talking about here, if that Doris even exists. I find it hard to believe that a woman who would trust Janine with her fears about having children and her career would be unaware of the fact that Janine is a "writer" and therefore not following her work. Therefore, there is either no Doris, or poor Janine is about to get cold-clocked.
Nevertheless, the author makes it clear that Doris is a class of woman. And it's a very specific class of woman, one that I happen to belong to. So I hope she won't mind if I just go ahead and get this off my chest.
Sometimes Doris reminds me of my kindergartner—"What if I get sick tomorrow and can't go to school and I never learn to read?" Sometimes Doris reminds me of my toddler twins—wanting whatever toy the other twin has.
It's good to know that being a career woman who has concerns about her ability to raise children gives you the emotional process of a toddler. Though if I am hysterical, illogical, irrationally greedy, and incapable of conceptualizing a world beyond myself, why would you want me to have children?
My husband had to talk me into having children. (In fact, he's still trying to talk me into having more children). And now, here I am, six years later with three of them. And if I'd had just a littlemore faith, I would have started having kids from the moment I met my husband and I would have never stopped to worry about being "ready."
I am so jealous right now that Janine has a husband who knows what she wants better than she does. I sometimes stay awake and night and stare and say, "Are you there god? It's me, Jolie. I know I haven't been very good, but if you could please send me a man who likes to 'talk me into' things against my stated wishes, I'd be really appreciative. "
It's just so frustrating when you say something and the person you are talking to takes you on your word as a conscious adult.
Oh, Doris, Doris, Doris.
Yes, my queen?
This is what I want to say to your face when we get together for a cup of coffee or a glass of wine and you wonder—again—if you're ready to have kids. I haven't said anything because 1) I don't want to hurt your feelings, and 2) you're always looking at your iPhone. 
Oh man, poor Janine. Having to provide non-judgmental and understanding emotional support to a friend who is clearly going through a very rough time, given that she seeks out a friend to discuss her innermost fears with, is a real bummer. And given Janine's warm and broad-minded understanding of all other humans, I have no idea why anyone would check text messages rather than listen to her talk.
First of all, Doris, I should have said this a long time ago, but please stop comparing your dog to my children. I get it—puppies are cute and babies are cute and both need to be housebroken. And your dog seems pretty smart, but will never learn how to brush her own teeth or call the vet when she has funny stomach pains. My kids, on the other hand, are going to grow up and vote.
This is a really great bit of feminism that totally needs to be said. In fact, while I know people find that comparison cute, it truly devalues the work that goes into raising children. We already think that raising children is fluffy women's work, given that's is free labor, but it is not. My cats are not going to go out into the world and interact emotionally with other humans, and teaching children to do that is not easy.
It's too bad that Janine ruins this salient point by acting like a dickbag.
That's probably the biggest difference. That and the poop. Out of all three children only one child has tried to eat his poop and that was an isolated incident, unless you count the time he found little goat droppings at the petting zoo. 
So the emotional process of women who have concerns about pregnancy looks like that of toddlers, but I'm not the one talking in public about who in my house eats poop.
There's something else I want to get off my chest, too, Doris.
Is it a baby?
I know you're a smart cookie with advanced degrees. You think of yourself as a mature woman and a kind woman and a compassionate woman. And you are! But you are also slightly short-sighted. You are dismissive of the younger mom and can't imagine that she could have wisdom beyond her years and beyond your—excuse me for saying this—limited world experience.
Damn right! It is impossible to know what another human being has experienced, and therefore, we should probably not sit somewhere and judge the choices they are dealing with. After all, everyone has a limited world experience. It's limited to our own experiences, no matter what they may be, and that's why we shouldn't be so fast to assume things about other people.
Right, Janine?
And unless you actually get pregnant and give birth yourself, your world experience is totally limited. After 46, you may as well have just lived in a cave without the internet because there's utterly no way to have the experience of raising a child after that age. Just call me Doris Dilettante.
And you're a little dismissive of your own mother. I know she can't text and she still calls the DVD player "the VCR." 
I'm dismissive of my own mother because she's a sick woman who uses feigned helplessness as a way to hurt me—not everyone's mother is healthy. Though I guess I should be okay with that, because at least my mom managed to have a baby without hemming and hawing about it.
And I only lived in poverty for most of my life with a woman who had no idea how to care for another human being, and my mother was in her 30s with a decent-ish job. Thank god my mom didn't wait until she was ready! When she made Janine's choices, everything came up roses!
I can just see you pregnant. You'll be one of those people who reads What to Expect When You're Expecting and you'll watch the movie The Business of Being Born. After the baby comes you'll read about the Ferber methods of sleep training and contrast them with the Harvey Karp methods. You'll read Dr. Sears because you've read that attachment parenting is the best and you'd like to get your kids into a fancy school. I know. That's why I bought an Ergo.
Thank god we all raise our children the same way, too. I know that I will have Janine's thought process while I'm pregnant, and hopefully I'll also get to write mean-spirited, misogynist essays on the internet about other women, too.
By the way, one of my girlfriends described attachment parenting as the worst mistake she ever made raising her child, but I guess if she goes to a fancy college…
It's the first step toward giving your children the social/emotional intelligence that'll get them into Princeton.
The second step is the money tree, which we all have. That's why it makes no sense that some people wait to have children.
You'll panic because you will never feel "ready"—whether it's feeling ready for your daughter to go off to Princeton or ready for you to go off the pill.
The thing I really love about this article, if you'll excuse me, is that Janine is displaying the emotional awareness of a gnat. Of course everyone's children go to Princeton when your husband convinces you to have a baby that you're not entirely ready for. And having a baby is no more difficult than going off the pill! I don't know what I would do if having a biological child (instead of contributing to the life of a child in any of the other, yet clearly not nearly as good, ways) actually involved another human being, who is also having an emotional process centered around becoming a parent. I just want to go off the pill and get my magic baby.
In a way, telling yourself that you're not ready to become a parent is like saying, "I'm not ready to broaden my horizons." Or, "I'm not ready to be humbled on a daily basis." Or, "I'm not ready to feel my heart swell up with admiration and pride."
Oh Janine, how can I put this.
Fuck you.
Allow me to confess what's really going on with this Doris, as it looks like Janine, worldly as she is, seems to have gotten my experiences wrong. I am 32 year old, highly-educated, and career-driven. I never thought I would have this process, but I have recently started to think about whether I would like to have a biological child, as the window for having an easier time with that will be closing shortly.
I would like to give my child things I didn't have, like a room, or a warm house, or a parent who is capable of meeting their emotional needs. This has also forced me to think about my own childhood, and to confront the fact that everything I knew about parenting, I learned from these two fuckups. My mother thought she was infertile and got pregnant accidentally. As far as I can tell, because she has never actually told me the truth about anything, she was 30 and my father was 22. They decided to go ahead and broaden their horizons; my father was gone in six months, and I was left in abject poverty with a woman who had severe emotional problems that she would never seek treatment for.
Janine advises that I just have a child when I have utterly no reference point for how to be a parent that doesn't include abandonment.
As you can see, things worked out well for me. My reaction to this was, "Get me the fuck out of here," which lead to me being admitted early to a fancy school. So I guess that's an option if you can't afford an Ergo.
I am angry about my childhood, and I have reservations about my ability to parent because of it—which often leaves me without words for my own parents. While I don't regret the business of being born, I spent the first 18 years of my life cold and terrified because my parents took their cues from the Janines of the world. I am working on forgiving them both (also a personal process, though I bet Janine would like me to speed it up a bit), and I've been forced me to recognize how my own emotional process was and wasn't working . Rather than being some monstrous caricature of their combined worst features, I'm actually infinitely reasonable…aside from the money, I'm already a hundred miles ahead of where my parents were. Maybe I could raise a really epic kid. Or
The two thoughts co-exist, by the way. It know it might shock Janine, but I am capable of entertaining more than a single thought at any given time. Maybe I am really grabbing for toys other people have, maybe I am being hysterical about the severity of the after-effects from my childhood, but I get to be the one who tells my story. Not some woman who never met me, who decided to overwrite my experiences with misogyny.
Janine is already asleep by now, but there are other concerns that I have that I know are widespread. As there's no mention of Doris being married or in a relationship, I'm going to assume that she isn't. Being married to man isn't my default, nor is it the default, so even if  "Doris" is in a stable marriage…not all us Dorises are actually the same.
Though, the more I think about it, the only way this essay works is if  Janine is mad at Jennifer Aniston specifically.
I have concerns about my emotional process and grief. How many miscarriages could I have and still be basically "okay?" Zero? Two? Five? This is unlikely for some people, but for those who have not had adequate medical care for most of their lives, this is very serious. I have only had all of my medical needs met for the last two years (i.e., not until age 30). Previous to that, I only received medical treatment when something progressed to the emergency stage. This included ob-gyn care, and it may have some impact on my ability to have a natural child.  Would I be precluded from using a donor for this? Would I need IVF for this? How would I feel if I was unable to have a child?
Well, I suppose I wouldn't feel humbled. That's reserved for women with children.
Money is always an issue, as well. I don't actually think I would need an entire college fund before I got knocked up, but I know what it's like to be raised with not enough food, no heat in the winter, and a single pair of shoes you've worn a hole into, but you're too terrified to tell your mother because you are super fast on the uptake. Janine's advice is that I stop whining and possibly inflict that on a child. I just take the big leap and hope that the company layoffs are over? Hope that the next policy change to work-life balance isn't to make the flexible working hours more strict? In reality, I realize that I am an educated, adult woman with a good career who lives in the best place in the country for me to work, and I have insurance and access to the finest doctors my policy says that I am worth. When I think of myself pregnant, however, I have the same emotional process of a 15-year-old who works at Starbucks on the weekends. Oh jesus. And, by the way, that's illogical, but it's also my experience, which I would like to discuss for myself. Janine.
Of course, I guess we could just live on my husband's six figure salary…except I don't have a husband, nor would I want to choose one based on his salary potential, so for me to step off that cliff means going it alone. That means thinking about how I will work and run the house and still somehow be present enough to contribute to shaping my child as a person. The Dorises out there who married teachers have concerns about their ability to leave their careers or what would happen should their partner have a heart attack.
Did I say I wasn't ready to feel my heart swell with admiration and pride? I meant I wasn't ready for my child to know what "homeless" means.
Given that I don't have a husband to "lovingly" pressure me into doing what he knew was best for me all along, despite my protests, can I just join the Peace Corp to broaden my horizons instead? Do I get extra points if my husband doesn't even bother pressuring me and he just sabotages my birth control instead?
I know it seems like a big step. I know it looks like motherhood is giving up yourself. It's not. It's just shedding the parts of you that you don't really need anymore.
Can someone check my date? I think my ass is expired.
This is something else that I have had to confront. I am incredibly selfish. It is a product of my upbringing, but I have accepted it. I will donate the shirt off my back to a clothing drive, but I do what I want to do, when I want to do it, and no one will tell me otherwise.  I once joked to a friend of mine that I would put my skates in a trophy case in my child's room. The plaque would read "Look what you did to Mommy."
Half-joked.
Maybe Doris doesn't really want kids. Maybe Doris really does want to sleep until 2 p.m., fuck anyone she wants at whatever time of the day she feels like it in any room in or out of the house, work on her career, write a novel, wear shoes she can't barely walk in, and hire a pool boy who has no idea how to clean a pool—and the problem that is weighing on her is that everyone is telling her that she ought to want children instead. Or maybe Doris thinks that if she's ready at 46, there is a whole world of children in shelters who might like to go live with someone nice. If she spent the next ten years really going overtime in her career, she could become a parent that way.
It is a very serious concern that motherhood might not trigger the Shirt Off My Back side of my emotions. The thing about emotions (especially ones borne from the trauma of having been parented by people who were not ready) is that you can't always control them. What happens if having a child rubs up against my I Do What I Want! switch? I was raised by that, and it's damaging and emotionally traumatic and is that the coin flip I want to take?
So I guess Janine is right that I don't need a behavior that would be maladaptive to motherhood, but in my current life…I Do What I Want! works out incredibly well. It's gotten me far in my career and my education because I am dedicated and driven. I think it's a bit presumptive to think that I don't "need" any of that, or to assume that getting pregnant would magically do the work that my therapist is pulling teeth to do (that didn't work for my mother).
There's no guidebook that can prepare you for that; you learn through the experience of it. Motherhood is like boot camp for the soul.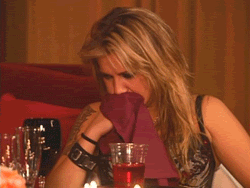 But since you insist on being "ready" first, here are some things you can do.
…what's really funny is that my biggest fear about having children is that I will become the kind of person who talks about which of her kids eats shit at the dinner table (or worse, posts pictures of it to Facebook. Thanks, STFU parents). I'm aware that would never happen to me (I have a sense of self, and won't need a child to give me one), and I'm aware that all of my friends with children are tough, smart, loving women who kick ass all day, raise the shit out of some babies, and maintain their own personhood. I still find it very scary.

Maybe Doris doesn't have kids because she's also terrified of turning into Janine. Maybe this part can be my nasty open letter to any woman who had a child?
If you stopped to pay attention, you might notice how your job is really something more like marketing than paralegal work or maybe you'll notice that you'd really enjoy event planning and after noticing, you might go to more events and spend fewer nights home watching back-to-back episodes of Friends.
I knew it was Jennifer Aniston.
Be attentive to your own life.
Have a word with yourself.
As I'm sure we've noticed by now, I have sincere difficulty not getting angry when I watch women tapdance to tear one another down as fast as possible. You don't get fucking Patriarchy Points, Janine. There's no toaster.
Here's what I see in Janine's article. I see a woman who is having the same doubts about her choices that I am. I see someone who flippantly mentioned that college is expensive, but that means she has thought about finance. I see someone who had children, by her own admission, only after being talked into it by her husband. Maybe Janine has started to read blogs by women who deliberately chose to not have children, and their lives look different. I see a woman who is so unsure of her choices that she goes into total emotional overload at the thought of other women not making her same choices and being, basically, fine.  It is absolutely the only excuse for her to attempt to shame and bully an entire class of women who are having difficult and unique emotional processes. It's either that or she's really just a giant dick, and I refuse to believe that.
Despite her protests, motherhood was a complicated choice for Janine. If it wasn't, there wouldn't have been a pill to stop taking for her magic, sex-free, biological babies. No one would have needed to talk her into anything. That's because sexism makes motherhood the default setting for womanhood, which then simultaneously privileges motherhood (women who don't have children have something wrong with them—they aren't maternal and and relegated to spinster status. Broken half-women) and devalues it (women with children have only done what you're supposed to do anyway, and because motherhood is just how things go, it's not labor and can't be considered capital). Janine is stuck in the whirlpool that is at the place where those two settings meet, and what came out was a desperate grab for Patriarchy Points so she could leave the exit and safely land on the slightly more privileged side of the track (which is kind of like saying "Well, she only stabbed me. She didn't punch me in the teeth or anything.") Or at least the side of the track that her choices lead her to.
So Janine has some "power" in her position because she looks like a pretty well-behaved lady and, while Janine isn't immune to patriarchy, there are a lot of advantages to playing nice-nice.  Her choices allow her access to the crumbs from the larger meal of socialized sexism. She's a ~nice, married mother of three, and her children are her whole life.~ Think about the difference between what would happen if she were raped and if I were raped? I'm just some godless, over-educated slut (possibly even a lesbian!) No one would hold a vigil for my ~kind and gentle soul~ were I to get dismembered in an alley, because I haven't played nicely.

Given that most people subscribe to the model of obtaining power via subjugating someone else, people disapproving of slutty, career-driven Doris is a way for Janine to obtain reassurance and emotional supply, as well as maintain her stance as a good girl. There's a special kind of hatred reserved for women who aren't "good" mothers, after all, and Janine knows  that if she lands in that camp, she will be swiftly taken apart. The only thing waiting for Doris in Janine's world are miscarriages and marrying someone who already had kids, but the things waiting for mothers in general are actually not that great either.
It's forbidden for women to talk about the darker parts of motherhood, the times when you're so tired that you fantasize about getting in the car with your purse and not coming back. Or the times when you're shouting at your husband because the baby has been crying and noisy for days and neither of you are emotionally okay, nor do you have the space to care for one another. Or the times when you look at your friends who are having complicated emotional processes regarding their reproductive choices and you decide that they are uncultured, slutty morons instead of admitting that you, too, might like to return to a time when you could do whatever the fuck you wanted.
If Janine were to actually discuss the complicated feelings that go along with being fully responsible for a small human, that would rock. Unfortunately, she decided that my story (and the stories of all the other Dorises) were so boring that she could tell them in a mere second. We're "freaking out."
It's my small act of activism to tell some of my story, and to talk about the emotions that I really am having regarding having children, including the ones that further remove me from the "privilege" (scare quotes intentional) of motherhood. Yet, there was a lot in Janine's article that was interesting for me.  It illustrated how women are silenced for not falling nicely into line; Janine volunteered for the position of policing and judging other women.
It was so truly vile that I had an emotional reaction to it, but I also had a theoretical one. When we talk about the concept that women are unable to be sexist against other women, an article like this is exactly what we're talking about. This is a woman who wrote unfettered misogyny, and it is prejudice. Not sexism. This is because Janine doesn't actually have any power in this situation. She either needs to play nicely, and never speak about her doubts about becoming a mother, or those crumbs (having her rape aggressively prosecuted) from the larger meal (not really having to worry about rape) are taken away. Sexism silenced Janine. If it didn't, she would talk about her own complicated process more openly, instead of lying and saying that it's totally worth all the trouble and the hassle. I'd have much preferred to see Janine talk honestly about her own experiences, but her point wasn't to actually make me take the plunge and have a child. Janine's intention was to do sexism's work by silencing and minimizing the stories of other women, women who have not behaved nearly as well as she has.
If that was not her intention, then she's got to be painfully emotionally dead. There's no one on earth who would have looked at that article and thought, "You know, that sounds encouraging to women thinking about being mothers." Janine opted to also take the route of never being direct with her "friend" about her emotions and instead turned pregnancy into a game of Patriarchy Points. She shouted it into the internet, where she could easily disengage from the thoughts and feelings of the real live women who she was so proudly disparaging. Her Facebook had a now deleted post snickering over the fact that non-moms were up in arms, which conveniently ignored (and then did not signal boost) the mothers who also had reactions to Janine's ideas and who wanted to tell their stories. Instead they are relegated to being non-mothers…which still allows Janine the space to think of herself as the Blessed Virgin, patron of mothers everywhere.
This is where patriarchy gets us. Women damn near clawing one another's eyes out for what? Enough approval that you'd end up on the news if you disappeared? That's the side of the playing field Janine (herself a very educated woman) decided to play on, and her choice to do that is simultaneously boring and fascinating.
And it leaves me to my biggest fear about having a biological child…what if, given the way we treat women, I have a daughter?